Implant-Retained Dentures
Are you tired of loose and uncomfortable dentures that make it hard to eat or speak? If so, implant-retained dentures in Coolidge may be the solution for you. Here's why. 
Stability and Comfort:

We anchor implant-retained dentures to dental implants securely placed in your jawbone, eliminating the need for messy adhesives or clips. This means you won't have to worry about your dentures slipping or sliding in your mouth, which can cause discomfort and embarrassment. With implant-retained dentures, you can speak, laugh, and confidently eat.

Improved Functionality:

Traditional dentures can impede your ability to enjoy certain foods or speak clearly due to their loose fit and lack of support. On the other hand, implant-retained dentures offer more stability and functionality, allowing you to bite and chew with greater force. This can improve your diet, overall health, and quality of life.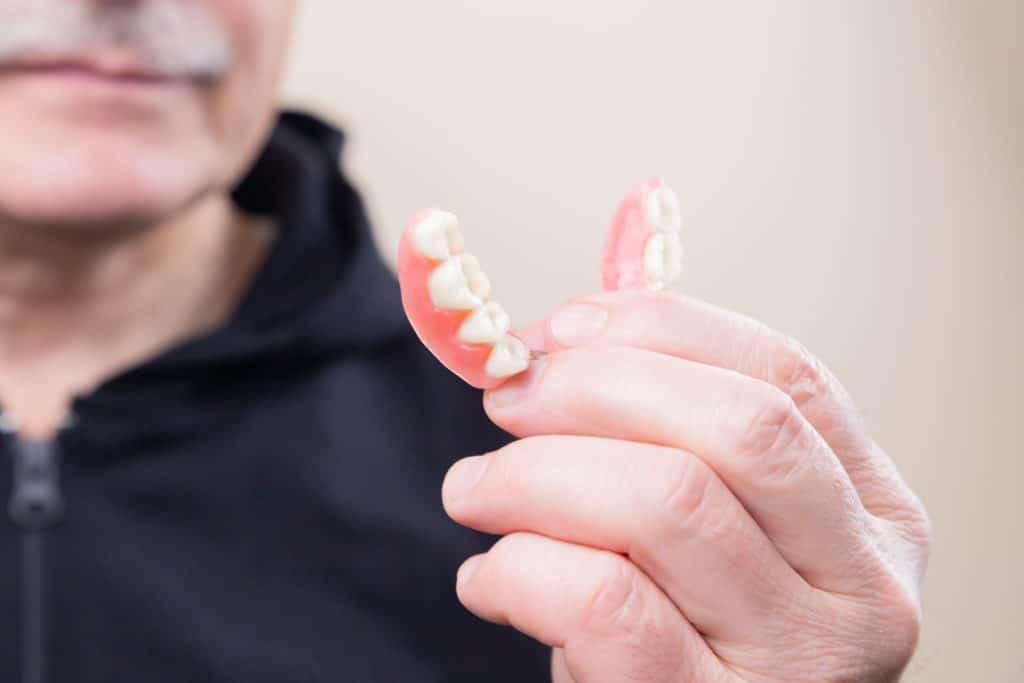 Long-Term Solution:

Many types of

dentures

offer high-quality

restorative dentistry

solutions for patients. Implant-retained dentures can last for many years with proper care and maintenance. This saves you money in the long run and provides peace of mind, knowing that you have a reliable solution for your dental needs.

Improved Bone Health:

The surrounding bone tissue can deteriorate over time when a tooth is lost. By placing dental implants in the jawbone, implant-retained dentures can stimulate bone growth and prevent further bone loss. This can help maintain the shape and structure of your jawline and reduce the risk of future dental issues.

Enhanced Appearance:

Implant-retained dentures are custom-designed to match your natural teeth and complement the contours of your face. This means you can enjoy a more youthful, attractive smile that looks and feels like your natural teeth. Plus, because we anchor implant-retained dentures to the jawbone, they won't cause the sunken-in appearance that can sometimes occur with traditional dentures.
What is the Process?
We've put together this step-by-step guide to help you understand the process and benefits of getting implant-retained dentures:
Step 1: Consultation and Planning
The first step in any of our treatments is to schedule a consultation with Dr. Matt Hunsaker or Dr. Mac Rainwater. During the consultation, we will examine your mouth, take X-rays and scans, and discuss your medical history. That information lets us determine whether you are a good candidate for implant-retained dentures. We will then discuss the options available, the number of implants you may need, and the estimated cost.
Step 2: Implant Placement
Once we have determined that implant-retained dentures fit you, we will schedule your implant placement procedure. We do this procedure under local anesthesia, which involves placing small titanium rods into your jawbone. The number of implants placed will depend on your individual needs. After the process, a healing period of several months is necessary to allow the implants to fuse with your jawbone.
Step 3: Abutment Placement
Once the implants have fused with your jawbone, we will place abutments on each implant. Abutments are small connectors that will hold your dentures in place. We also do this procedure under local anesthesia, which usually takes about an hour to complete.
Step 4: Denture Fabrication
After placing the abutments, we will take impressions of your mouth to create custom dentures. We will send these impressions to a dental laboratory where your dentures will be fabricated. The lab will craft your dentures to fit precisely on the abutments, allowing for a secure and comfortable fit.
Step 5: Final Restoration
Once your dentures are ready, we will schedule a final appointment to check the fit and adjust them as needed. Once you are satisfied with the fit and feel of your implant-retained dentures, we will secure them onto the abutments. You will receive detailed instructions on how to care for your dentures, and we will schedule regular check-ups to ensure that your new dentures are functioning correctly.
Implant-Retained Dentures in
Coolidge
Implant-retained dentures are a fantastic way to restore your smile and improve your quality of life. If you want to look into implant-retained dentures or would like to schedule a consultation at River's Edge Dental, don't hesitate to contact us today. We look forward to helping you achieve your best smile with our high-quality dental services in Coolidge, Arizona!